Automatic Ads Detection - Maximize Ad Revenues
AI is Key to Driving Workflow Efficiencies
Efficiently analyze your ads revenues versus competitors
Audio and video content detection
The task of verifying whether commercials were aired or not is becoming increasingly complex due to the need to search within a growing number of TV and Radio channels. Manual operation is time consuming, subject to errors and costly.
Based on advanced fingerprinting technology, Actus AdWatch is a complete workflow for automatic audio and video content detection, including advertisements and promos. AdWatch is the optimal solution for ads verification, creating affidavits and compliance with visual proofing, increasing your ads sales, and performing competitive ad analysis.
AdWatch does not require any advance watermarking of the feeds and can also be used to detect content that is aired on channels without the content rights. 

Fingerprinting
Audio/video fingerprinting with 99% accuracy 

Metadata
Customized metadata for the detected content

Automation
Automatic detection of ads

Reports
Powerful Report Generator – per channel, spot, brand, campaign, and more
Automatic Detection of New Commercials- With No Prior Fingerprinting
 AdWatch includes automatic potential ad spotting technology to ensure outstanding efficiency. This innovative technology automates the process of finding new, undetected ads, keeping your system constantly up to date and offering complete control over the current ad campaign.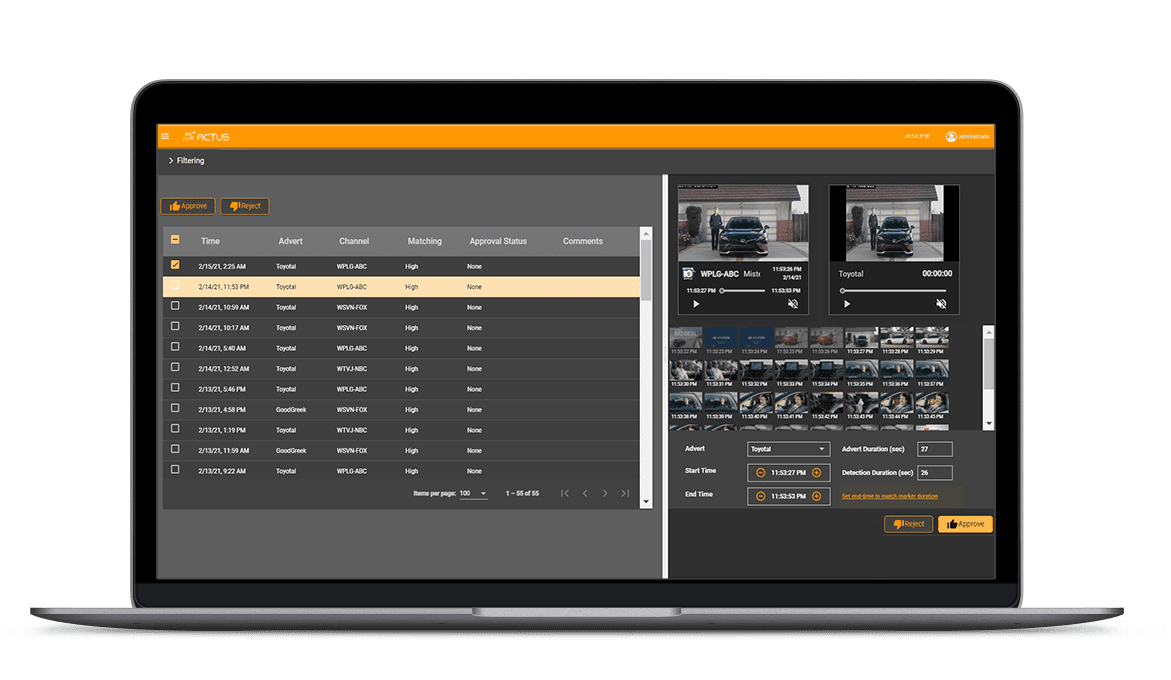 Actus Adwatch used for Anti-Piracy 
Unauthorized copying and distributing of content are massive revenue losses for any content owner. Different methods to protect your content are expensive and time-consuming. Actus Adwatch for automatic content detection can detect if your content was aired on a selected list of TV channels and websites. The system will run automatically and provide an alert each time your content is aired on unauthorized channels. Reports will be created, including a visual proof for each such detection. Adwatch delivers a cost-effective solution to prevent anti-piracy and eliminate revenue loss.
AdWatch is delivered with a complete database powered by Oracle, and is customized to your needs.
Specific fields can be easily added, depending on the profile of the users (i.e., broadcaster, media agency, regulator, and political party).
AdWatch scans previously recorded material retroactively to make sure no content is undetected
AdWatch separates detections with 100% matching from those with medium or low matching (such as a shorter version of the same ad)
AdWatch produces ads affidavits reports for advertising (traffic) aired
AdWatch automates competitors ads monitoring
AdWatch generates ads reports based on both fingerprinting and as-run log files integration
AdWatch monitors local and remote media campaigns, providing a centralized solution
Media companies are dealing with an increasing amount of content and data. Being able to quickly analyze the content and find relevant content is critical.
Actus AI is a solution for speeding up workflows, allowing content providers to automatically tag, organize, and categorize video recordings, search for spoken words and more. Our AI solution enables rapid retrieval of relevant content and clips creation for social media, OTT and the web. With AI, processes that used to require hours of manual labor are now completely instantaneous.
AI improves the workflow efficiency and response time and allows fast content turnaround and clips export for increasing the viewers' engagement and build the brand visibility.
Actus AI provides intelligent content monitoring and searching that goes beyond searching by channel name, date/time, extracted metadata (i.e. as run/EPG, closed captions, etc).
Audio and Video analysis, beyond technical analysis

Ability to search for spoken words and texts on the video
Keywords detection and alerts
Facial recognition
Automatic alerts
Automatic ads and content detection
Automated clips automation to enable fast turnaround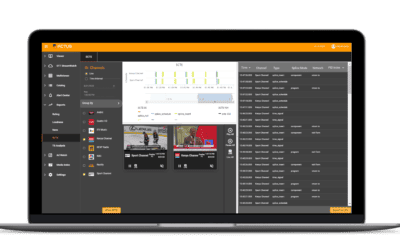 DPG Media, leading media group in Belgium, Netherlands' largest media company with a significant presence in Denmark, has transitioned to the AI-based Intelligent Monitoring Platform from Actus Digital for regulatory compliance recording/monitoring and ad verification after nearly a decade with a competitive system.
read more
Call us at +1 407-506-3600 or leave the following details: