Actus Mosaic – Broadcast Multiviewer
Browser-based Broadcast Multiviewer – All Your Live Channels on One Large Screen

Review all of your broadcast channels from one large screen, including any mix of video, audio or internet inputs, and configuration, across multiple channels.
What are multiviewers and what are they used for?
Broadcasters must monitor multiple video and audio feeds simultaneously to ensure the broadcast runs smoothly. A multiviewer allows them to see all the feeds on a single screen, making it easier to identify any issues or errors that may arise. It allows users to monitor video and audio quality, detect errors, and perform analysis on the content being broadcasted in real time.
Anyone who reviews and monitors multiple live channels, including broadcasters, content owners, and playout centers, needs a broadcast multiviewer.
Actus multiviewer can be part of Actus compliance logging and intelligent monitoring platform and does not require any additional hardware resources: all your compliance and multiviewer needs in one cost-effective solution (2 in 1).
Why choose Actus' Mosaic browser broadcast 
1. Inputs: Actus multiviewer supports any mix of broadcast and Internet input, such as IP, SDI, 2110, HLS, HDMI, ASI, AM, FM, etc., any resolution (SD, HD, HEVC, etc.), any format
2. Any number of layouts: The user can customize the layout of the feeds on the output display, such as resizing the feeds, adding one or multiple clocks, choosing which feeds to display, how they are arranged on the screen, and what information is displayed along with each feed:
The ability to configure a number of channels from a single screen, including a variety of widgets

 A configurable layout screen

The ability of the system administrator to specify the position and size of each channel

Related clock

Labels

Metadata

VU meter

TS analysis widgets

A transport stream analyzer (TSA) widget that will highlight ER-101-290 priority 1, 2, and 3 errors from any transport stream source

Real-time alerts on audio and video issues such as audio loss, threshold (loudness) issues, frozen image, blue or black screen, color bars, pixelization, loss of audio, as well as alerts on missing metadata such as no closed caption, no subtitles, no SCTE

SNMP traps

Loudness monitoring

Penalty box

Supports up to 70 streams on one screen
3. Any number of layouts can be created and saved
4. Browser-based Multiviewer: Actus multiviewer is fully browser-based and can be controlled remotely via a network connection, allowing the user to manage, adjust and monitor the feeds from any location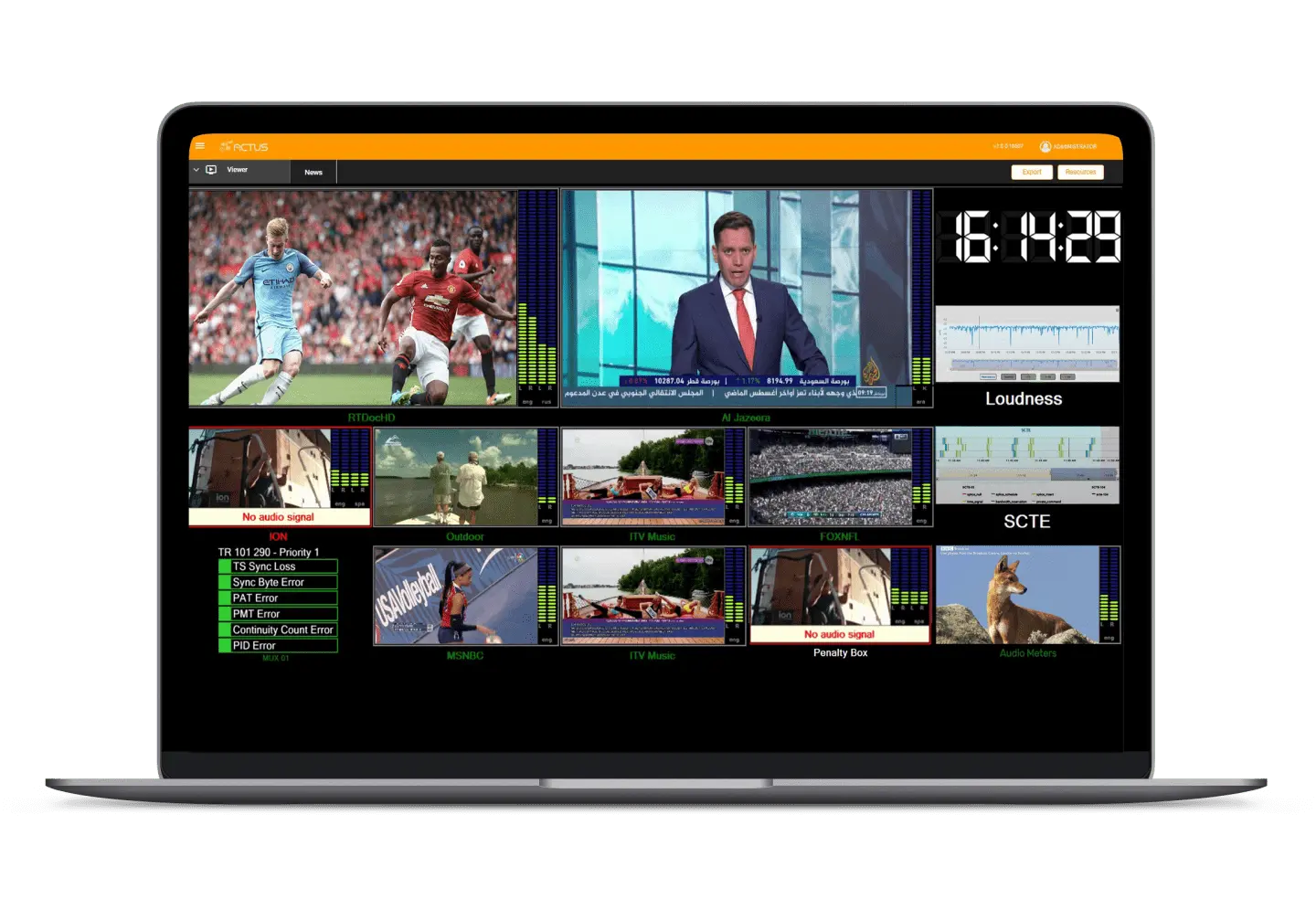 The benefits of using the Mosaic broadcast
multiviewer 

Provides real time alerts on audio and video issues

Presents the Subtitles/CC, Loudness, SCTE

Presents Actus penalty box

Integrated with
TS analysis

No need for additional hardware
Our Mosaic Broadcast Live Multiviewer product
Actus browser-based Mosaic is an efficient and cost-effective multiviewer that can display over 70 TV/Radio/Internet signals in one screen — including error detection and alerts, audio VU meters, clocks, and widgets — on any large wall monitor screen. It also integrates with Actus TS Analysis and presents loudness, SCTE, closed caption, and subtitle metadata. Its low cost and ability to use existing sources from Actus encoders make Actus Mosaic a perfect complementary solution for content monitoring rooms. Clicking on a specific channel will allow users to hear its audio.
Actus browser-based Mosaic can be monitored locally or from any remote location, including central monitoring of streams from different locations. It can also be added to Actus compliance logging and intelligent monitoring platform, as has been implemented at broadcasters and media operators worldwide. It can also be a mix of broadcast and OTT feeds.
Actus Mosaic supports any number of TV/Radio/Internet streams simultaneously, any input, resolution, and format.
IP/TS (SPTS, MPTS)
2110
Composite Analog SDI
ASI
HDMI
AES/EBU
DVB-T/T2
DVB-S/S2
DVB-C/C2
AM/FM/AES
HLS
MPEG-DASH
SRT, Zixi, etc.
Any other input type
Teletext and Closed Captions
DVB Subtitles
EPG
SCTE-35
SCTE-104
On-screen – Visualization Alerts
Audio Alerts
SNMP traps, any data miner
Email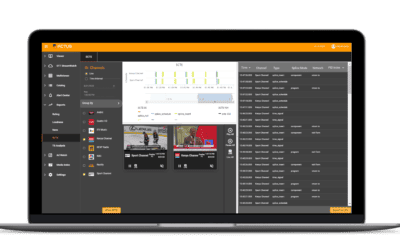 DPG Media, leading media group in Belgium, Netherlands' largest media company with a significant presence in Denmark, has transitioned to the AI-based Intelligent Monitoring Platform from Actus Digital for regulatory compliance recording/monitoring and ad verification after nearly a decade with a competitive system.
read more
Call us at +1 407-506-3600 or leave the following details: