Step up to the new generation
of Compliance monitoring
Reliable. Innovative. Focused
Regulatory broadcast compliance and logging requirements are constantly evolving. New regulations and next-generation technologies are adopted as industry standards. A compliance solution must go beyond its basic use cases and guarantee positive ROI, monetization, and workflow efficiency.
Join the hundreds of media companies, including BSkyB, Disney, and Sony, who trust Actus Digital's compliance and logging solution for their broadcast and OTT compliance and monitoring needs.
Beyond Just Broadcast Compliance
Our broadcast compliance solution goes beyond compliance and meets the variety of demands throughout the broadcast enterprise, providing additional workflow tools for analyzing QoE, increasing content monetization, repurposing content to social media and the web, and advanced AI for driving workflow efficiency and automation.
Record From Any Video or Audio Source, In Any Format and Resolution

Actus View (broadcast compliance logging) records a limitless number of channels from any broadcast or internet source (i.e., audio, video, and metadata) such as DVB, ATSC 3.0, ASI, SDI, TSoIP, SMPTE 2022-6, SMPTE 2110, HLS, MPEG-DASH, RTMP, and others. All encoding formats are supported (i.e., MPEG-2, MPEG-4, and HEVC), as well as input resolutions (i.e., SD, HD, UHD). Actus View saves the recorded video in any (configurable) bitrate and resolution needed from low bitrate up to full HD. Additionally, Actus View can save the recorded TS as native for the analysis of the original source. The content can be recorded in one or multiple locations and monitored from a central location.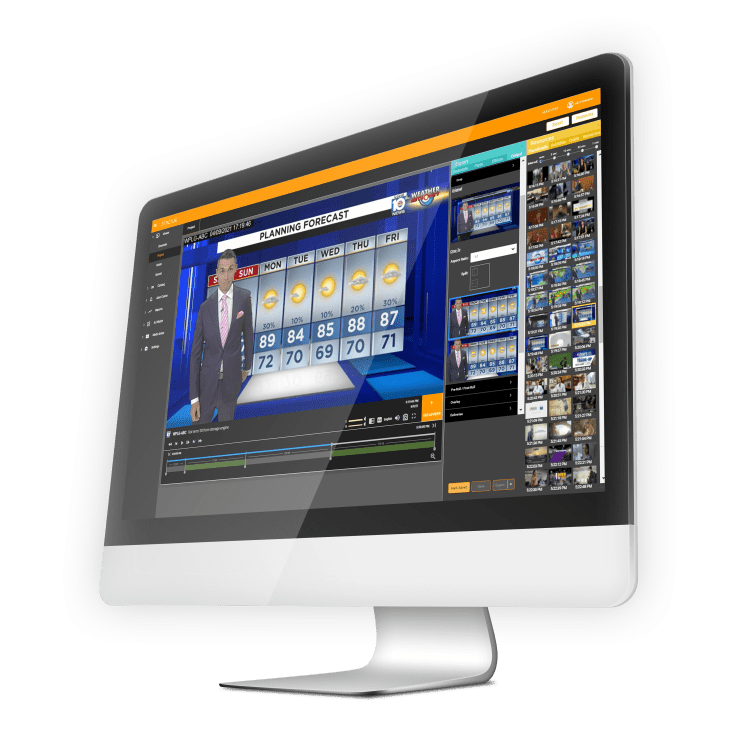 The Actus View log server provides web-based and mobile applications for monitoring of real-time and archived content. The Actus smart player includes intuitive controls for easy and fast content review, scrubbing options, storyboard navigations, and more. A smart search engine enables you to find content based on metadata (such as closed caption, as run, and traffic schedules). With the clips creation engine, you can mark in/out one or multiple segments and export to any destination. The clips can be exported in any format, using a built-in transcoding engine. All of the clips are managed in an internal repository catalog.
Metadata Extraction: Closed Captions, Subtitles, Teletext
Extracting, recording, and monitoring closed captions, DVB subtitles, and teletext is a key requirement of broadcasters in order to comply with regulations and maintain quality of experience. Actus View extracts all of the metadata from the broadcast source, making it searchable and exportable as part of the clips.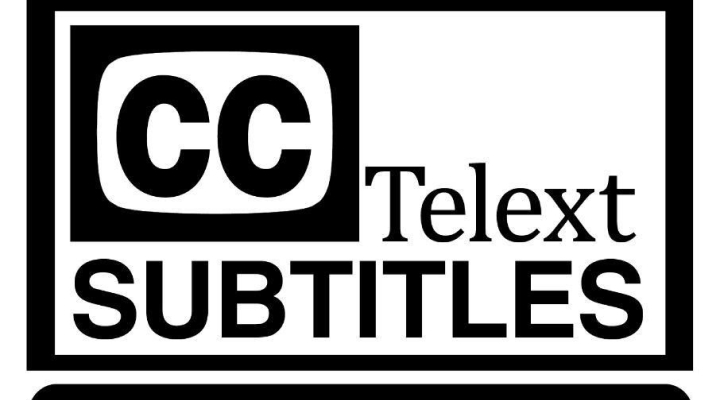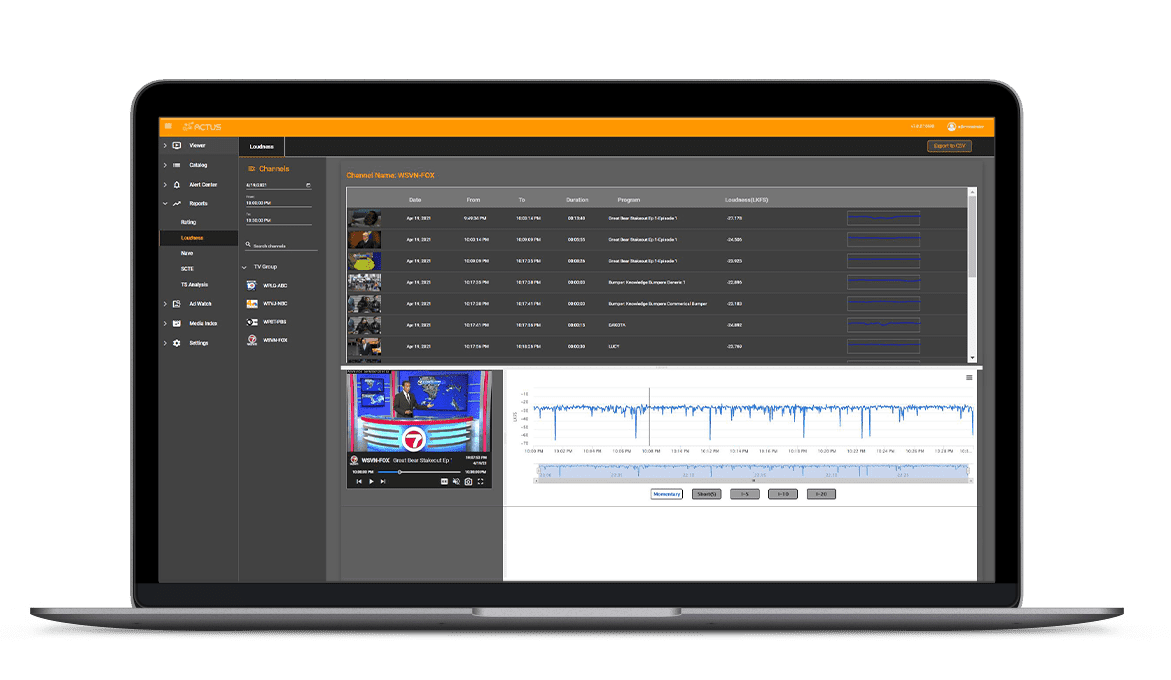 The Actus Loudness module lets operators maintain continuous measurements, which identify program loudness, loudness range, and average. The loudness measurements, combined with robust broadcast logging, allow users to quickly review the status and provide continuous, exportable measurements as proof of compliance and to defend against loudness complaints.
Our solution supports the following standards:
S. CALM Act
ATSC A/85 Practice
EBU R128 3341 PLOUD Measurement
ITU Rec. BS.1770-1/2/3
Unique features include:
Export clip with burn-in loudness data
Timed logs with all the measurements
Loudness reports
Average loudness per program/content ID
Interactive graphical representation of loudness
Unique features:
Supports SCTE-35 and SCTE-104
Monitors SCTE on a timeline, providing interactivity, across one or multiple channels
Provides a summary of all SCTE main commands, synchronized with the video players.
Offers a detailed view (full information of every field) of a specific SCTE command.
Provides SCTE cadence alerts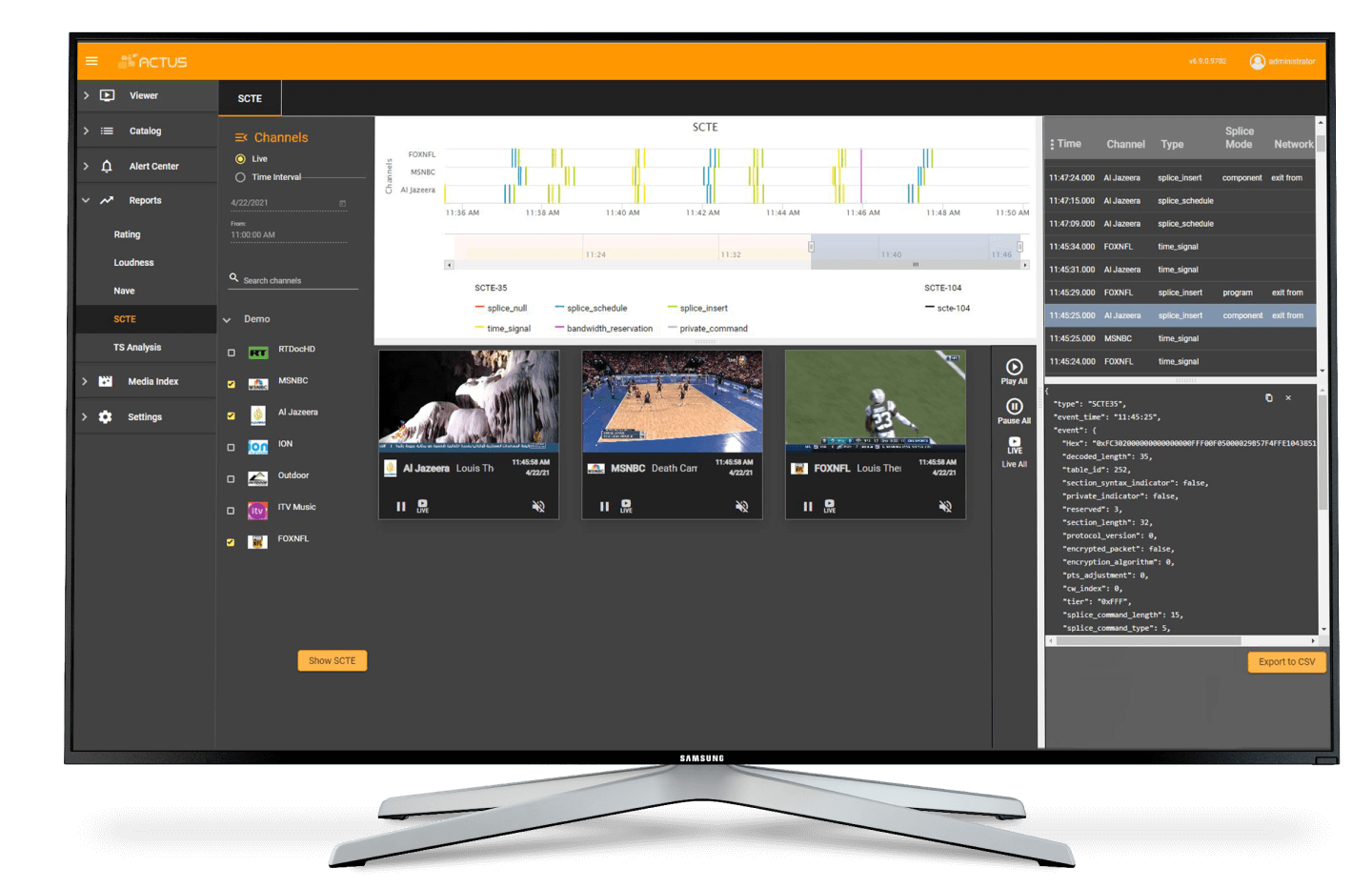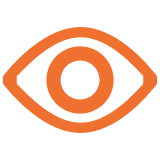 Proxy and Native Logging
Recording from any input, format and resolution, TS recording as NATIVE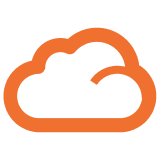 Supports virtualized and Cloud environments
Deployment on any platform: on-premises, virtual machines (VM), cloud, or hybrid, including centralized monitoring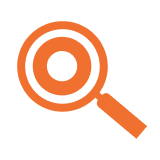 Metadata Monitoring
Extract and monitor any metadata, including:
SCTE 35/104
Closed captions
Loudness
Subtitles
Teletext
EPG/as-run
Ratings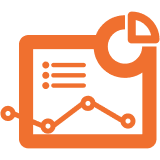 Reports
Generation of reports such as alerts, loudness, user's activities, ads detection, and more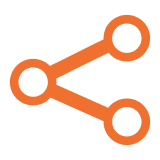 Content Re-purposing and Monetization
Simple and fast workflow for clips creation and export directly to social media and the web by anyone, from any workstation, anytime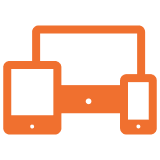 Compliance Logging From Any Device
Actus Digital's platform is accessible from any PC, Mac, iPad, or smartphone (Android and iOS) using any browser (Chrome, Safari, Edge, FireFox)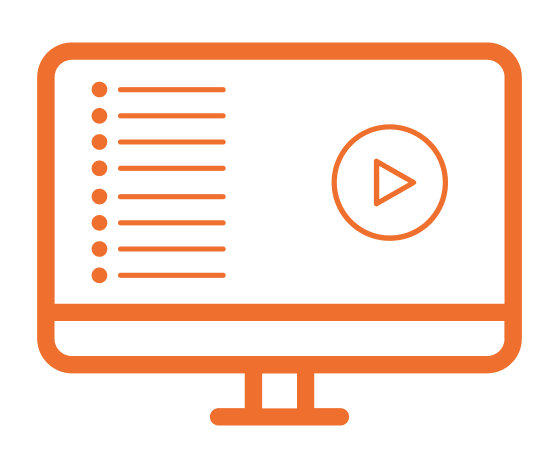 Integration With As-Run Logs, EPGs, Scheduled Files
Integration with any EPG, as-run log, or scheduled metadata, from any automation system, providing additional tools for searching and finding specific content by program ID, name, or any other parameter, ad tracking reports and more. Our platform is also used for navigation and automatic mark in/out, enabling quick clips export for compliance purposes, ads sales, and content repurposing.

Compare as-run logs and schedules

Create reports based on the as-run log for ads and promos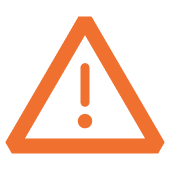 Real-time alerts on audio and video issues, including pixelization, frozen images, loss of audio, loss of video, loudness issues, and missing subtitles and closed captions. Export reports with the alerts information, graphs, and pie charts.

Multilingual GUI
Fully browser based, for any browser. The UI supports all languages.

User Management
Integration with Active Directory, OKTA, and SAML user rights management and security

Quick Clips Export
Simple and powerful: mark in/out, burn any metadata/TC, add graphics/animations, built-in transcoding engine, supporting all formats

Content Repository
Internal catalogue for clips management, edit/delete, send via mail, download, and categorize
Looking for a replacement to your existing broadcast compliance and monitoring system?
Is your current system outdated?
If your existing compliance and monitoring system was declared end-of-life (Volicon Observer, Axon Tracks, or any other) or does not have any support please contact us to learn about special migration plans and support options.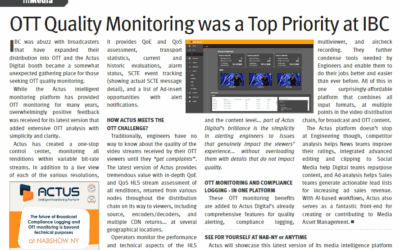 IBC was abuzz with broadcasters that have expanded their distribution into OTT and the Actus Digital booth became a somewhat unexpected gathering place for those seeking OTT quality monitoring.
read more