Clip Factory PRO – The Fastest Content
Re-Purposing to Social Media/Web, Brand Awareness and Viewer's Engagement
Increasing viewers' engagement is critical, and Actus Clip Factory is the fastest way to create, edit, and publish clips to social media, the web, and OTT platforms. It can be used by anyone, anytime, from anywhere, from any workstation. There is no need for dedicated workstations, professional video editors, or expensive fees.
Actus Clip Factory for content repurposing is the fastest and simplest content turn-around workflow solution for Facebook, YouTube, Twitter, Instagram, the web, and OTT platforms. Our solution enables clips editing; adding effects, logos, and animations; pre-roll and post-roll; dynamic metadata; and cropping, with a built-in transcoding engine to support any format. It's easy to use and cost effective, assuring your content will be published rapidly.

More than a compliance solution – Actus Digital offers an all-in-one platform for all your post-broadcast needs, including content repurposing. Actus Clip Factory is a powerful solution that benefits from compliance recordings, compliance metadata, as-run log/EPG integrations, closed captions, subtitles, and more. It comes as a stand-alone solution or as an additional solution to your compliance platform.


Speed
Designed for fast editing and publishing

Ease of Use
Simple UI, can be used by anyone, no need for professional editors

Any workspace
Can be used from any workstation

Any location
Can be used locally or from remote, from any browser

Any platform
On premise, VM, Cloud, Hybrid

Supports recording from any input, any format, and any resolution. All video and audio formats and interfaces are supported, including: SDI, ASI, IP/TS, HLS, MPEG-DASH, RTMP, ST2110/ST2022-6/7 (SMPTE), HDMI, DVB, analog, FM, and AM. In addition, all resolutions are supported: SD, HD, and UHD. Any storage can be used, including: local, central, DAS, NAS, SAN, or cloud.
With advanced navigation options — such as scrubbing, fast-forward and backwards in different speed rates, mouse over, storyboard, keyboard shortcuts, and jog — relevant content is quick and easy to find. Mark in/outs can be used to ensure that relevant parts of the content are included or excluded. You can also add metadata, effects, and overlays to the clip.
Different metadata can be added to the clips from the as-run/EPG, closed caption, subtitles, audio track, time stamp, and more. Any number of profiles can be defined to ensure a fast workflow and frame-accurate clips editing. Integration with external metadata is included for quick editing, including ad removal, specific program clipping, and more. Clips can be created directly from the live signal or from the archived content.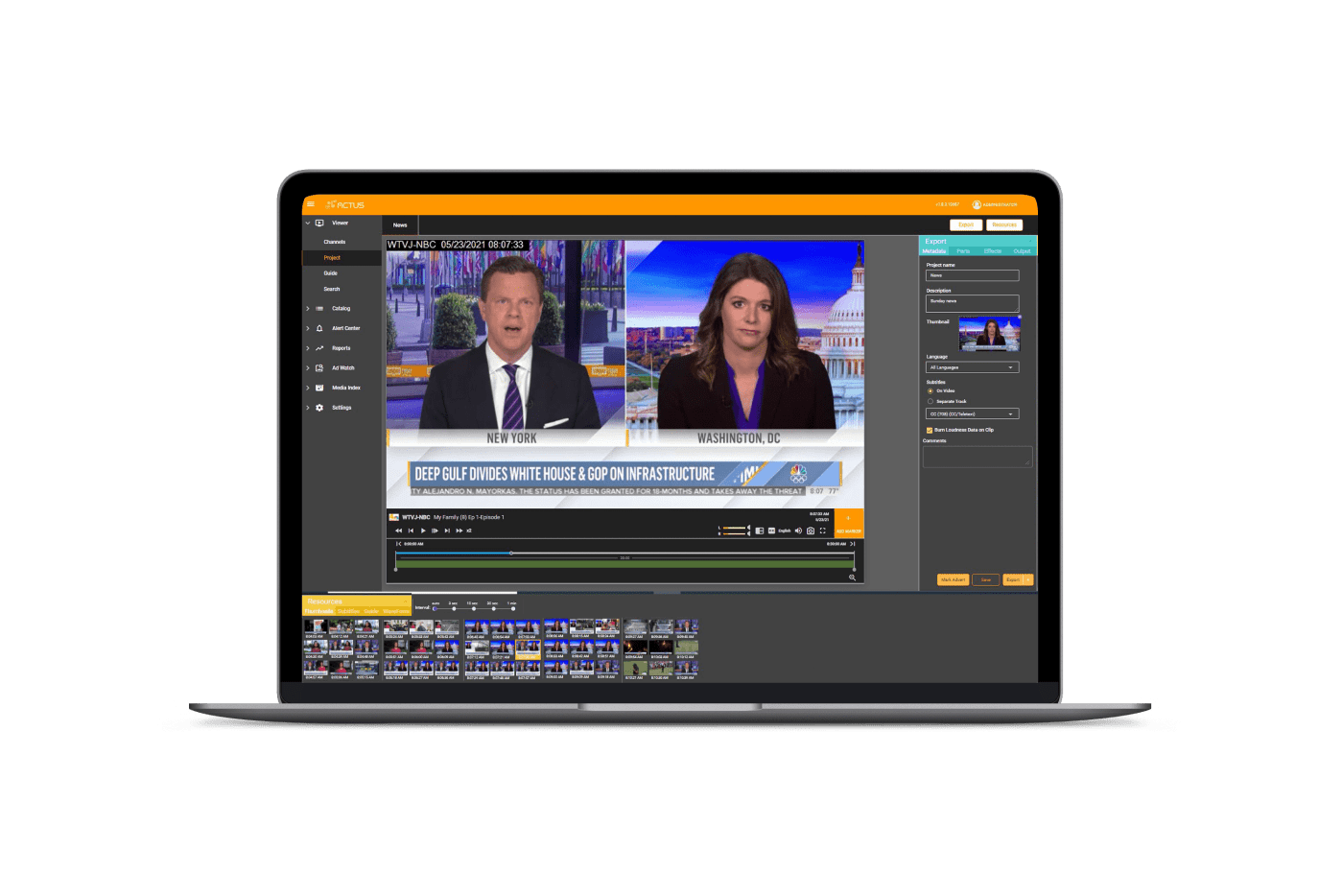 An advanced built-in transcoding engine allows you to export clips in any format, any bitrate, and any resolution, with all the effects, graphics, and metadata. Optional integration is available with third-party encoders (transcoding farms), including Telestream, Elemental, and Ateme. The integration relies on a third-party API and is totally seamless to end users.
Directly publishing clips to social media, including Facebook, YouTube, Twitter, Instagram, OTT platforms, web portals, catch-up TV, VOD, FTP, network share, CDN, and DVD is simple. Content is also sent via mail to the internal catalog – internal repository management.
Delivery status notifications: Our solution provides full delivery status notifications to guarantee that all the clips have been created and delivered accurately. You can export to multiple destinations in one click.

Actus Clip Factory and Clips Automation
Automated workflow options save human resources, shorten the distribution time, and ensures that the clips reach their destination fast. Our solution provides: 
Automatic mark in/out of any number of segments by using external metadata
Predefined profiles for faster clips creation
A special UI to define rules, based on time and clips duration, for automatic clips creation
Automatic clips based on any rules and metadata given to the system
In addition to the extracted metadata, such as closed captions, SCTE, DVB subtitles, teletext, and multiple audio tracks, used in the clips creation workflow, Actus Clip Factory supports metadata extensions. You can create your own metadata input form, flexible layout, various field types, and predefine values. It's easy to generate output XML files containing metadata values for workflow integration.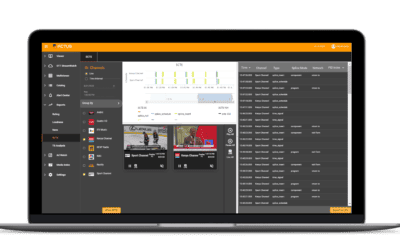 DPG Media, leading media group in Belgium, Netherlands' largest media company with a significant presence in Denmark, has transitioned to the AI-based Intelligent Monitoring Platform from Actus Digital for regulatory compliance recording/monitoring and ad verification after nearly a decade with a competitive system.
read more
Call us at +1 407-506-3600 or leave the following details: