What are your options for
end-of-life or outdated systems?
Buying a new system is surely an option. However, there are alternatives to consider.
If you currently use an end-of-life system like Volicon Observer or Axon Tracks, you are probably looking for options to replace your existing system. If you are considering keeping your existing system, you will need to make sure that your compliance monitoring system is fully supported.
Actus Digital, a global provider of compliance and media intelligent monitoring platform, offers various options for customers who are still using end-of-life systems:
1. Support for existing end-of-life systems:
Actus Digital is happy to audit your existing system and recommend support options.
2. Use of existing hardware:
We can use your existing hardware and replace only the software. This is almost a transparent change: the servers need not be taken out of the rack or moved; the video feeds stay connected as they are now.
3. Complete migration to a new system:
If your hardware is too old and not performing well, Actus Digital offers a completely new compliance and monitoring system. We can offer a turnkey plug-and-play system or just the software to be installed on your hardware.
4. Special payment terms:
Special times like now require special actions. We offer special payments and service models to support you. Please email us at [email protected] and we will be happy to work with you on the best solution to fit your needs and budget. 
Please stay safe.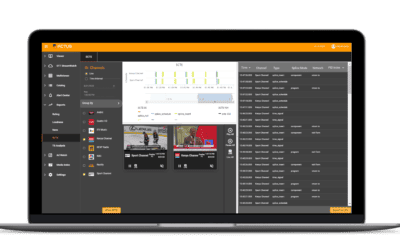 DPG Media, leading media group in Belgium, Netherlands' largest media company with a significant presence in Denmark, has transitioned to the AI-based Intelligent Monitoring Platform from Actus Digital for regulatory compliance recording/monitoring and ad verification after nearly a decade with a competitive system.
read more
Call us at +1 407-506-3600 or leave the following details: