Actus Track Match – Compare aired and original content
Automatic alerts on broadcast deviation
How can you make sure that the broadcasted channel that is aired in different locations or by different affiliates was not changed in any way? Actus TrackMatch offers a solution.
With TrackMatch, broadcasters can compare two different TV channels, making sure they relay the same content. TrackMatch will report any content discrepancies, automatically flagging meaningful changes between the two feeds according to a set of predefined rules. Actus TrackMatch performs content comparisons using the latest digital signal processing technology.
TrackMatch can also be integrated with Actus AlertCenter, which provides real-time alerts on audio and video issues, such as loss or degradation of video and audio signal.
TrackMatch compares any two signals, from any source (IP, SDI, analog, ASI, DVB, ASI, HLS, etc), from any location (e.g., from two continents), and at any resolution, bitrate, and aspect ratio. Using TrackMatch™, broadcasters and content distributors can detect any deviation in an affiliated channel, such as ad replacement, content change, or any significant variation in the image quality, as well as drop in Signal to Noise.
TrackMatch will compare the proxy of the original feed with any of the copy feed and issue reports. If needed, the operators can access and view the recordings of any of the remote servers using the Actus View module.

Compare different video streams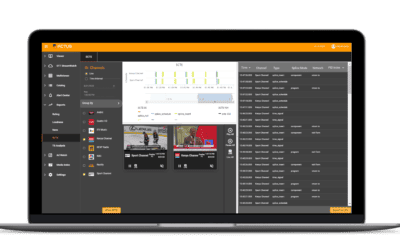 DPG Media, leading media group in Belgium, Netherlands' largest media company with a significant presence in Denmark, has transitioned to the AI-based Intelligent Monitoring Platform from Actus Digital for regulatory compliance recording/monitoring and ad verification after nearly a decade with a competitive system.
read more
Call us at +1 407-506-3600 or leave the following details: