Over-The-Top (OTT) content delivery significantly impacts the way broadcasters distribute live linear content and ensuring the quality and compliance of that OTT delivery is essential for them to protect their brand, maintain their reputation, and stay ahead of the curve in the rapidly changing media landscape. 
To ensure the quality of their streaming services without investing in additional OTT-only monitoring tools, successful broadcasters and streaming media providers are adding OTT Quality Assurance (QA) monitoring to their existing compliance logging workflow.
Broadcast engineers beginning to distribute OTT had no way to know about the quality of the video streams received by their OTT viewers unless they received complaints and they'd have to wait for their Content Delivery Networks (CDN) to provide statistics before they could ensure service level agreements had been met.
Typically, OTT streams follow several distribution paths and stream multiple renditions  (consisting of several resolutions and bitrates) to multiple CDNs and content owners have minimal insight into the viewers' quality of experience.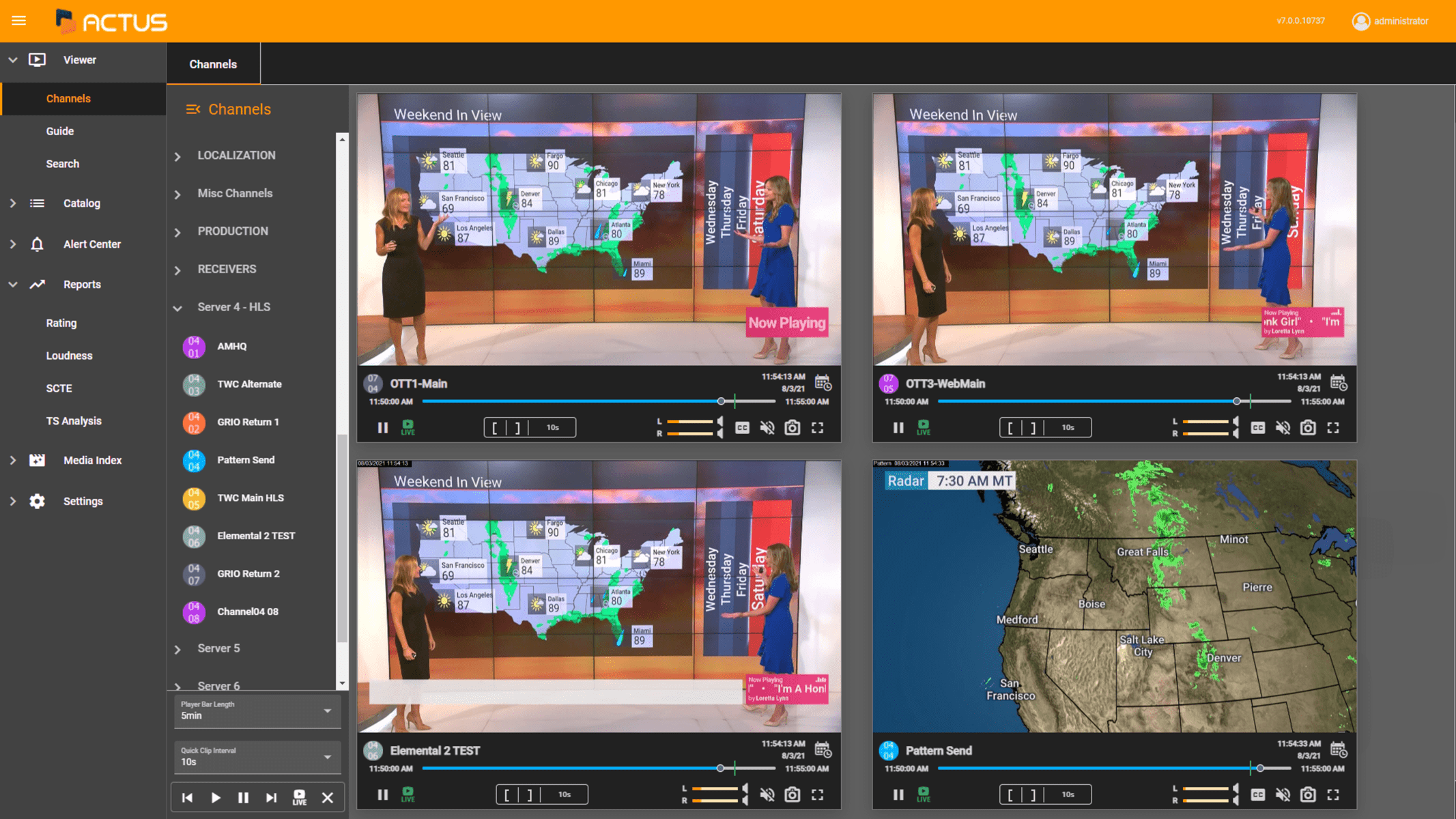 The Weather Channel (and dozens of others) have combined OTA and OTT Quality Assurance and Compliance Monitoring on the same Actus Platform for years.
Comprehensive One-Stop Platform Now Includes OTT
Actus Digital's solution brings the entire monitoring process from both OTA and OTT, into a single user interface where engineers can see all related data from encoding to distribution, with simplicity and clarity.
The platform monitors traditional OTA broadcast returns alongside OTT streams at multiple probe-points. The one-stop interface displays the overall status for each OTT stream, SCTE information, stream-quality as advertisements were streamed, and overall Quality-of-Service (QoS) statistics, including transport, download, and playback speed.
The recently enhanced Actus OTT tools monitor native HLS streams at all key places within the delivery workflow, including the media source, encoders, decoders, and return streams from CDNs at one or several geographic locations.
Operators monitor the technical performance and can see the HLS streams live from the dashboard and receive alerts of problems that genuinely impact the viewers' experience, without overloading them with issues that have not affected viewer quality.
Through a rich dashboard, operators can watch in real-time as Actus inspects and provides data about HLS delivery at the HTTP level, the manifest level, and the content level, including all renditions in Adaptive Bit Rate streams.
Not only is the analysis and data available for review, but because Actus records the native HLS streams, the content from any time can be played back to inspect and verify the quality of any and all renditions, from any probe-point.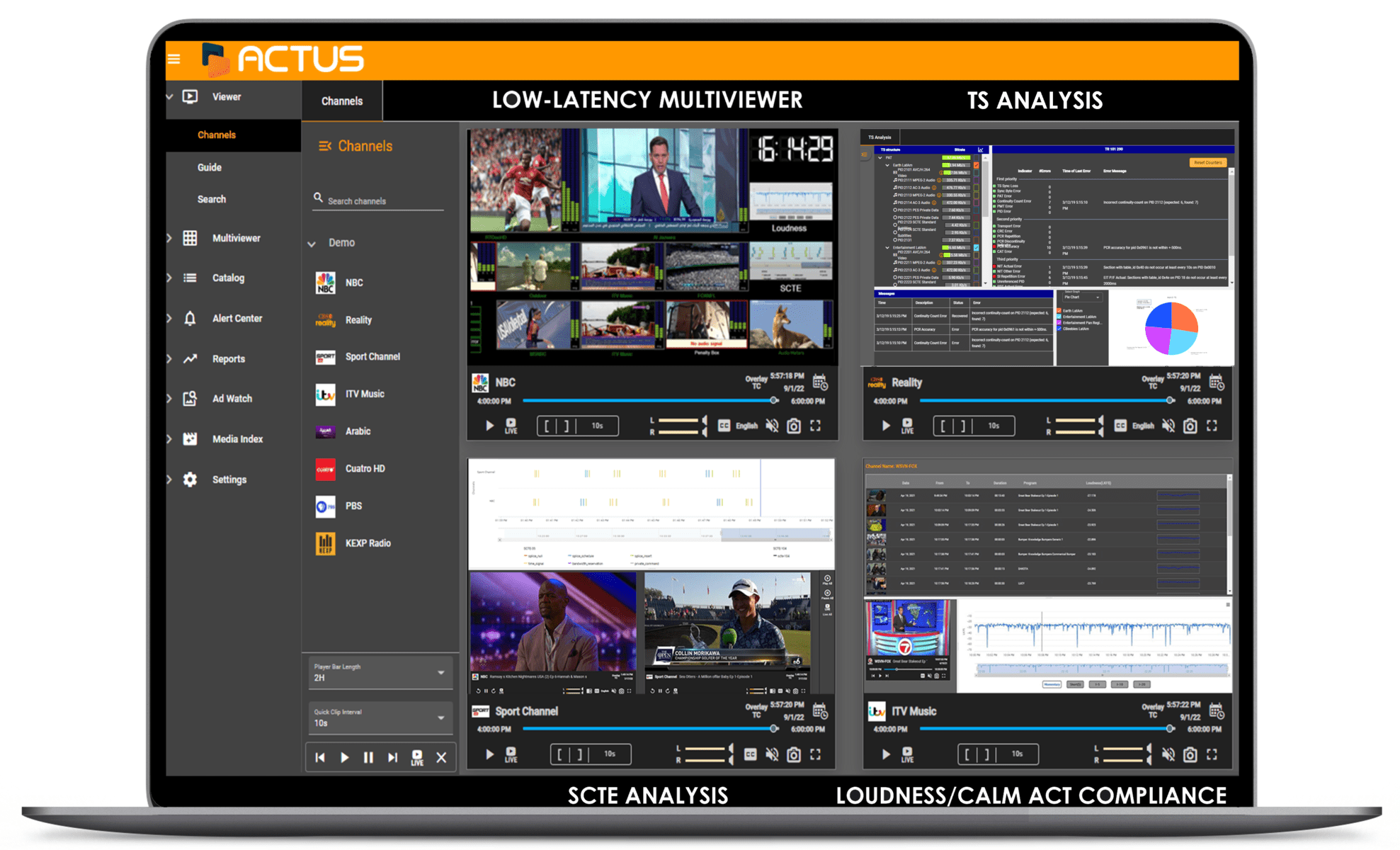 The Actus platform includes a comprehensive set of tools including customizable multiviewers, transport stream analysis, SCTE analysis (for DAI trouble shooting), loudness (for CALM Act Compliance), and more.
Broadcast Compliance, Quality Assurance, and Multiviewer Monitoring
These OTT monitoring benefits are added to Actus Digital's comprehensive features for quality alerting, compliance logging, multiviewer, and aircheck recording. They enable engineers to easily perform their jobs better by using the same platform for all formats, including not just OTA and OTT but also baseband (SDI, HDMI, etc.) and Transport Streams from IP, ASI, 2110, etc.
Compliance logging and monitoring is a must-have solution in most parts of the world and keeps evolving because of new regulatory requirements, and new video protocols, formats, and metadata standards.
Customers expect their compliance logging solution to stay current with regulatory requirements and alert them when they are in violation of those requirements. This includes recording and archiving all aired content so they can clip and send proof of airing for things such as EAS (Emergency Alert System) messages and reply to inquiries about missing closed caption/subtitles/teletext or violations of loudness regulations.
Beyond compliance logging, these solutions are not whole without the ability to provide quality assurance monitoring and deeper analysis of things like SCTE, NAVE, and multiple audio languages. Multiviewers are another vital component of a complete Compliance Logging and QA Monitoring solution, providing a comprehensive view of all content in real-time.
Most-Advanced and Easy-to-Use Multiviewers in the Market
Some of the key advantages of the Actus Digital multiviewer are that it is very low latency, extremely user-friendly, and accessible from any web browser.
It is fully customizable, allowing users to tailor the display to meet their specific needs, viewing only the streams relevant to optimize their viewing experience. The Actus multiviewer is so popular because it leads in flexibility and value enabling any number of multiviewer views to be created with unlimited simultaneous users selecting them to display wherever they are needed.